Gluten-Free Products Market to See Major Growth by 2025 | Key Players are Genius Foods, Chosen Foods LLC, Mickeys LLC, Rachel Pauls Food, Gee Free LLC
The global gluten-free products market size is estimated to account for USD 5.6 billion in 2020 and is projected to reach USD 8.3 billion by 2025, at a CAGR of 8.1%
The report "Gluten-Free Products Market by Type (Bakery products, Snacks & RTE products, Condiments & dressings, Pizzas & pastas), Distribution channel (Conventional stores, Specialty stores and Drugstores & pharmacies), Form & Region – Global Forecast to 2025″, The global gluten-free products market size is estimated to account for about USD 5.6 billion in 2020 and projected to reach a value of nearly USD 8.3 billion by 2025, growing at a CAGR of 8.1% from 2020 to 2025. The gluten-free products market is driven by factors such as increased diagnosis of celiac diseases and rising adoption for special dietary lifestyles & free form food products. Also, increasing availability of gluten-free products in organized retails is expected to propel the growth of this market in the coming years. However, high cost of gluten-free products compare to conventional gluten-containing products is hampering the market growth.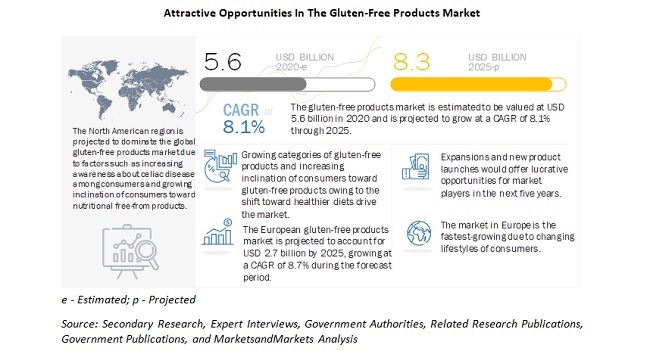 "Impact of COVID-19 on the current market size and forecast."
The COVID-19 pandemic is projected to have a moderate and unfavorable impact on the global market. Due to the restricted supply chain activities, manufacturers are not able to procure the raw material and manufacture goods to cater to the demand. Additionally, due to government initiatives such as lockdowns, manufacturing plants were also at a standstill due to the limited workforce available. Global companies are facing challenges in importing and exporting the end products, owing to the limited international trading activities. All these factors cumulatively have impacted the entire supply chain, thereby impacting the market adversely. However, post-pandemic, the market for gluten-free products is projected to witness an optimistic growth trend, owing to the rise in consumers preferring gluten-free and other free-from foods, as a result of a shift in the consumption lifestyles towards healthier eating. Thus, the market is expected to be at a standstill until the fourth quarter of 2020.
Download PDF Brochure: https://www.marketsandmarkets.com/pdfdownloadNew.asp?id=738
Driver: Increased diagnosis of celiac disease and other food allergies
Gluten intolerance or celiac disease is an autoimmune disorder, which damages the small intestine lining and prevents the absorption of nutrients from consumed food items. If this is left untreated, it can lead to developing other immunity disorders, osteoporosis, thyroid disease, and cancer. According to a study called "Global Prevalence of Celiac Disease: Systematic Review and Meta-analysis," published in 2017, the global prevalence of celiac disease was found to be 1.4% of the global population. The effect of celiac disease is more in developing countries than in the western world. The myth that celiac disease primarily affects Europeans and Americans has been eliminated since, according to the same study mentioned above, the prevalence of celiac disease was observed to be the highest in Asia (1.8%) and lowest in Africa (1.1%). In the earlier decades, before the 2000s, the prevalence of these celiac diseases was unknown to the majority of the population as it could have been easily misdiagnosed for some other digestion-related problem.
Opportunity: Adoption of micro-encapsulation technology to improve the shelf-life of gluten-free products
In conventional gluten-containing foods and food products, gluten proteins are responsible for the management and retention of moisture, which in turn, impart the products with a relatively long shelf-life. However, when the products are manufactured gluten-free, to cater to the increasing demand of the global end consumers, it tends to have a shorter shelf-life and, in most cases, lacks its texture aesthetics. Furthermore, it is tough for the key players to manufacture a line of gluten-free products to increase moisture retention and shelf-life. Thus, they require continuous R&D and incorporation of newer technologies to attain the desired shelf-life.
Microencapsulation is one such recent technology that can aid manufacturers to achieve this goal of increasing the shelf-life and texture of their range of gluten-free products. The same technology has been used to overcome the cardboard consistency of refrigerated pizza, rising crust pizza, and also for the shelf-life extension of frozen and refrigerated dough, frozen biscuit dough, scoop and bake frozen muffins, and biscuits.
The solid form segment is estimated to account for the largest share in the market in 2020, by form.
The global market is majorly dominated by the solid form, across regions and countries. This is attributed to the fact that manufacturers of these products are into large-scale production of this form of gluten-free products, catering to the global end-consumer demand. Products such as bread, rolls, buns, cakes, cookies, crackers, wafers, biscuits, baking mixes & flours, breakfast cereals, snack bars, confectionery products, noodles, and RTE products fall under the solid form of the gluten-free product segment. Manufacturers operating in the gluten-free market are largely into the production of the solid form of gluten-free products owing to the higher sales of these products, longer shelf-life, easier logistics required, convenience in manufacturing and formulating, and lower costs of production.
The segment estimated to account for the largest share in the market in 2020, by distribution channel, is the conventional stores segment.
Conventional stores were largely preferred by an array of consumers for purchasing gluten-free products. This is attributed to the factors such as the ease in accessing stores, availability of various product categories, and frequent purchasing destinations. Owing to this, the segment has accounted for the majority share in the global market, by distribution channel and also, is projected to grow at the highest rate in the coming years.
Make an Inquiry: https://www.marketsandmarkets.com/Enquiry_Before_BuyingNew.asp?id=738
North America is estimated to dominate the gluten-free products market in 2020
North America accounted for the largest market share in 2019. Factors leading to the dominance of this region in the global market include the relatively high awareness of gluten-free products, diagnosed celiac patients, key players existing in the market, and higher purchasing power of the populace. According to the Celiac Disease Foundation, the incidence rate of celiac disease amongst Americans stood at 0.5% in 2018. About three million Americans have celiac disease, and a further estimated 40 million suffer from gluten-intolerance or sensitivity. According to the same data, experts have anticipated that the number of celiac patients in the region is expected to double every 15 years. This is attributed to the heavy consumption of bread and other gluten-containing foods and food products as a majority part of the meal as compared to the consumption among the population in other regions. As consumers are becoming aware of the diseases caused by heavy consumption of gluten, most are now moving toward a gluten-free diet, further enabling product manufacturers to develop a strong gluten-free product portfolio in the region to cater to the dynamic demands across distinct product categories.
This report includes a study of marketing and development strategies, along with the product portfolios of the leading companies in the gluten-free products market. The key players in the gluten-free products market include The Kraft Heinz Company (US), The Hain Celestial Group Inc (US), General Mills (US), Kellogg's Company (US), ConAgra Brands Inc (US), Hero AG (Switzerland), Barilla G.E.R Fratelli S.P.A (Italy), Quinoa Corporation (US), Freedom Foods Group Limited (Australia), Koninklijke Wessanen N.V (Netherlands), Raisio PLC (Finland), Dr Schär AG/SPA (Italy), Enjoy Life Foods (US), Farmo S.P.A. (Italy), Big OZ (UK), Alara Wholefoods Ltd (UK), Norside Foods Ltd (UK), Warburtons (UK), Silly Yaks (Australia), Seitz Glutenfrei GMBH (Germany), Bobs Red Mill (US), Kelkin Ltd (Ireland), Amys Foods (US), Golden West Specialty Foods (US), and Prima Foods (UK).
The gluten-free products market also consists of SME's and start-up players, which include Katz Gluten Free (US), Genius Foods (UK), Chosen Foods LLC (US), BFree (Ireland), Mickeys LLC (US), Rachel Pauls Food (US), Gee Free LLC (US), Fody Foods (Canada), Gluten-free Prairie (US), Gluten Free Cornwall (UK), Feel Good Foods (US), Canyon Bakehouse LLC (US), Barr Necessities (US), Avena Foods Limited (Canada), and Complete Start (US).
Media Contact
Company Name: MarketsandMarkets
Contact Person: Mr. Aashish Mehra
Email: Send Email
Phone: 18886006441
Address:630 Dundee Road Suite 430
City: Northbrook
State: IL 60062
Country: United States
Website: https://www.marketsandmarkets.com/Market-Reports/gluten-free-products-market-738.html