AI Meta Club (AMC) and Metaverse Projects Unveil Terran NFTs, Pioneering the Future of Metaverse Gaming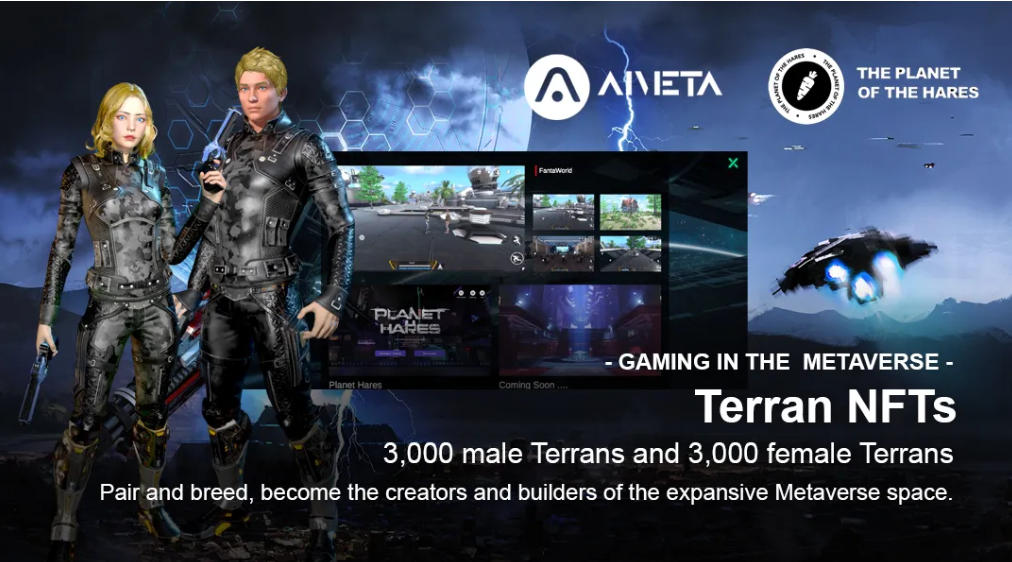 Leading organization AI Meta Club (AMC) has partnered with several metaverse projects to introduce an exciting breakthrough in metaverse gaming—the unveiling of Terran NFTs. This collaboration represents a significant milestone in the world of metaverse gaming, fueled by the exponential growth of AI and the Metaverse concept. Enthusiasts and investors have been eagerly investing in ecosystem assets related to these emerging technologies.
AMC is thrilled to announce its partnerships with multiple metaverse projects, culminating in the highly anticipated launch of 6,000 one-of-a-kind Terran NFTs. This exclusive collection consists of 3,000 male Terrans and 3,000 female Terrans. In the metaverse, these male and female Terrans can be paired to breed, assuming the roles of creators and builders within the expansive virtual world.
By combining their respective strengths in AI technology and virtual world construction, AMC and its metaverse partners have formed a mutually beneficial alliance. AMC specializes in AI technology research and exploration, utilizing various AI tools to solve problems efficiently. Their expertise includes generating images from text, creating 3D models from images, and a wide array of other functions that significantly enhance the content of the metaverse.
The introduction of Terran NFTs serves as a testament to the successful collaboration between AMC and metaverse projects. Their shared objective is to provide users with a unique and immersive virtual world experience. Each Terran NFT represents the embodiment of human creativity, construction, development, and perfection within the metaverse realm. Owners of Terran NFTs will have the privilege of witnessing historical changes within the metaverse and actively participating in its construction and development.
AMC and other metaverse projects will join forces to launch a marketplace, enabling the auction and free trade of these exceptional NFTs and facilitating the fluidity of virtual assets. Furthermore, AMC aims to establish a comprehensive ecosystem to enhance operations within the metaverse, fostering a thriving and immersive environment for all participants.
Excitingly, AMC is also introducing its groundbreaking 3D blockchain-based mobile game, "The Planet of The Hares." This innovative venture further solidifies AMC's commitment to innovation and delivering cutting-edge experiences to users. The game promises to captivate players with its unique rabbit intellectual property, leveraging the economic incentives of $AMC and the empowerment of AIGC (AI Governance Coin) to boost user activity and promote sustainability.
Through its ecosystem incentives and AIGC empowerment, AMC has forged collaborations with multiple metaverse projects, signalling innovation throughout the Web3 world. By harnessing the power of AI technology, pioneering economic models, and fostering cross-border collaborations, AMC has opened a new chapter in the realm of the Metaverse.
About AI Meta Club:
AI Meta Club is a Decentralized Autonomous Organization (DAO) platform that brings together like-minded individuals passionate about exploring the potential of AI and Metaverse technologies. Its primary mission is to promote the integration of AI and the Metaverse, driving innovation and collaboration within the rapidly growing digital landscape.
Combining expertise in AIGC's technology application and global community advantages, AI Meta Club aims to empower the Web3 movement, driving innovation, collaboration, and growth within the digital landscape. Ultimately, their goal is to contribute to the development of a thriving, interconnected, and user-centric Metaverse ecosystem.
Useful Links:
Website: www.aimeta.club
Contact: [email protected]
Telegram: https://t.me/AIMETA_GROUP
Twitter: https://twitter.com/AIMetaClub
Discord: https://discord.gg/xFHMtUuK7h
Medium: https://medium.com/@aimetaclub_5108
Media Contact
Company Name: AI Meta Club Ltd
Email: Send Email
Country: United States
Website: https://www.aimeta.club/