Kansas City-based Hip-Hop Artist J. Maurice Takes the Music Industry by Storm with Unique Blend of Feel-Good Beats and Relatable Lyrics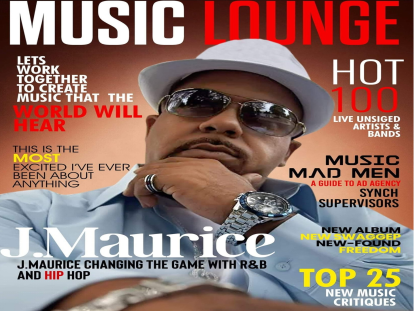 Kansas City-based hip-hop artist J. Maurice is taking the music industry by storm with his unique blend of feel-good beats and relatable lyrics. Inspired by real-life experiences and hardships, J. Maurice uses his music to connect with listeners from all walks of life.
Born in Kingston, New York, J. Maurice's passion for music started at a young age. He has since developed his skills to create an infectious sound that captures the soul and makes you want to dance. With his outstanding abilities and remarkable stage presence, J. Maurice is quickly becoming one of the most influential artists in this generation.
To know more about J. Maurice music, kindly click here: www.mymusicmystory.com
J. Maurice's latest single, "Roll Wit Me," is a testament to his talent and passion for creating high-quality music. With a unique blend of Hip Hop grooves and R&B influences, J. Maurice is reaching out to a plethora of different listeners, providing a fresh new perspective on the music industry.
Apart from being an extremely versatile performer and music artist, J. Maurice is also a hustler. He has overcome a lot of tribulations in his life, including the lack of family love and a stable home, molding him into the person he is today; strong, bold, empathetic and success-oriented. He is the founder of HUSTLE GRIND ENTERTAINMENT, his very own entertainment company.
For J. Maurice YouTube: https://youtube.com/c/TheRealJmaurice
J. Maurice has performed live at various notable music events locally and is looking forward to showcasing his live performance at many more venues regionally in the near future, to entertain and engage his loyal fans. With big dreams and plenty of energy to spare, J. Maurice seeks to positively influence the world and connect with like-minded individuals through his music.
J. Maurice is a rising star in the music industry, and his unique brand of music is captivating listeners around the world. He is a force to be reckoned with, and we can't wait to see what he has in store for the future. Keep an eye out for J. Maurice, as he is well on his way to becoming one of the most phenomenal and influential artists of this generation.
Follow J. Maurice on Instagram: https://www.instagram.com/therealjmaurice/

Media Contact
Company Name: My Music My Story
Contact Person: J. Maurice
Email: Send Email
Country: United States
Website: www.mymusicmystory.com