AI in Computer Vision Market worth $45.7 billion by 2028, at a CAGR of 21.5%
The AI in Computer Vision Market Size, Analysis, Trends, & Forecasts. The Global market for AI in Computer Vision categorized by Component, Machine Learning Models, Function, Application, End-Use Industry, Size and Geography
The report "AI In Computer Vision Market by Component (Hardware, Software), Function (Training, Inference), Application (Industrial, Non-industrial), End-use Industry (Automotive, Consumer Electronics) and Region – Global Forecast to 2028" The global AI in computer vision market is expected to be valued at USD 17.2 billion in 2023 and is projected to reach USD 45.7 billion by 2028; it is expected to grow at a CAGR of 21.5% from 2023 to 2028.
• Informational PDF Brochure :-
https://www.marketsandmarkets.com/pdfdownloadNew.asp?id=141658064
Browse 142 market data Tables and 60 Figures spread through 255 Pages and in-depth TOC on "AI In Computer Vision Market by Component and Region – Global Forecast to 2028 "
View detailed Table of Content here –
https://www.marketsandmarkets.com/Market-Reports/ai-in-computer-vision-market-141658064.html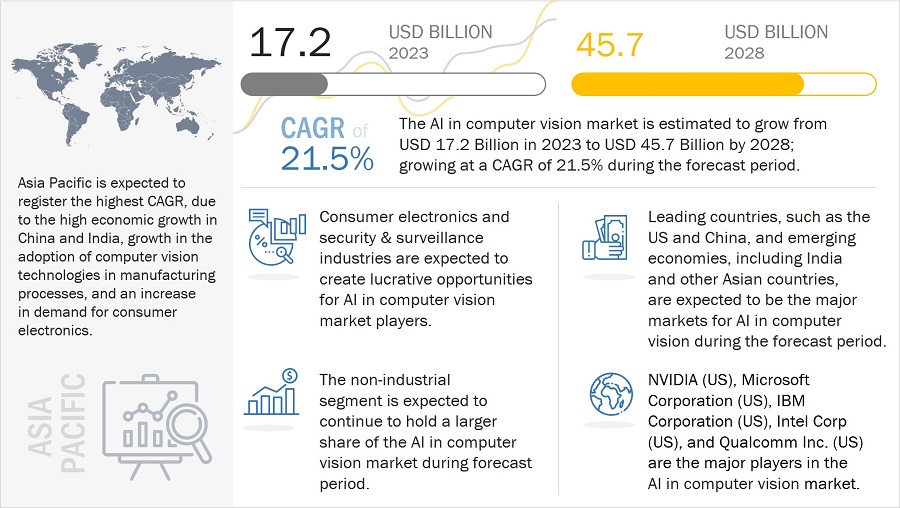 Several trends and disruptions are impacting customer businesses in Al computer vision; advancements in deep learning; deep learning is a subfield of machine learning that has revolutionized the field of Al computer vision. With the development of deep learning algorithms and the availability of large datasets, Al computer vision is becoming increasingly accurate and effective. Increased use of edge computing is a distributed computing paradigm that involves processing data close to the source of data rather than sending it to a central location for processing. This trend is becoming increasingly popular in Al computer vision as it enables real-time processing and reduces latency. With the growing popularity of Al computer vision, there is increasing competition in the market. Companies seek ways to differentiate their offerings and stand out by offering innovative and unique solutions.
Increasing use of AI computer vision in autonomous systems
The increasing use of AI computer vision in autonomous systems, such as self-driving cars, drones, and robots, leads to new and innovative applications. This is because AI computer vision technology allows these systems to perceive and understand their environments, making it possible for them to make decisions and act accordingly. AI computer vision is a critical component in the development of self-driving cars. AI algorithms can be used to process the data from cameras and sensors installed in the car to identify objects, such as pedestrians, other vehicles, road signs, and traffic signals, in real-time. This allows the car to make decisions on how to react to its environment and drive safely without the need for human intervention.
GPU is expected to hold the highest CAGR for the hardware segment during the forecast period.
In the consumer market, graphic processing units (GPUs) are widely used in computing systems. These processors are preferred over central processing units (CPUs), as the former can handle a more complex set of data with greater efficiency. Graphic processing units (GPUs) are mainly used for 3D applications, such as computer games and 3D authorizing software. The major companies that provide processors are NVIDIA (US), Qualcomm (US), and Intel (US). In real-time, Nvidia GPUs are used in industrial inspection systems to process and analyze image data from cameras and other sensors. Several companies in the industrial inspection space use Nvidias Jetson platform to perform AI vision tasks such as image classification, image segmentation, object detection, and more. In NVIDIA Jetson 256-core, NVIDIA Pascal GPU architecture with 256 NVIDIA CUDA cores is used for high scalability and performance.
AI in the computer vision market in North America to hold the highest market share during the forecast period
Startups in the US are receiving funds from various organizations to research AI technology, which finds applications in autonomous drones and other aerial vehicles. The countrys primary focus is to overcome reliability, safety, and autonomy challenges faced by industrial drones. Thus, companies have developed solutions that combine computer vision and deep learning algorithms to identify potential hazards and increase the endurance of industrial drones. Additionally, universities and research institutions in the US also have strong computer vision programs and are actively contributing to the development of the field.
NVIDIA Corporation (US), Intel Corporation (US), Microsoft (US), IBM Corporation (US), Qualcomm Technologies Inc. (US), Advanced Micro Devices, Inc (US), Alphabet, Inc. (US), Amazon (US), Basler AG (Germany), Hailo (US), and Groq, Inc. (US). The other company profiles included in the scope are Sighthound, Inc. (US), Neurala, Inc. (US), Datagen (Israel), Graphcore (UK), Groopic (US), Ultraleap (US), Algolux (US), Athena Security (US), Snorkel AI (US), Vizseek (US), Robotic Vision Technologies (US), AMP Robotics (US), CureMetrix (US), and Creative Virtual (UK) are among the many players in the AI in computer vision market.
Don't miss out on business opportunities in AI In Computer Vision Market. Speak to our analyst and gain crucial industry insighs that will help your businessgrow.
Media Contact
Company Name: MarketsandMarkets™ Research Private Ltd.
Contact Person: Mr. Aashish Mehra
Email: Send Email
Phone: 18886006441
Address:630 Dundee Road Suite 430
City: Northbrook
State: IL 60062
Country: United States
Website: https://www.marketsandmarkets.com/Market-Reports/ai-in-computer-vision-market-141658064.html