Cross-Laminated Timber Market Size, Industry Overview, Trends, Latest Insights, Opportunity and Forecast 2023-2028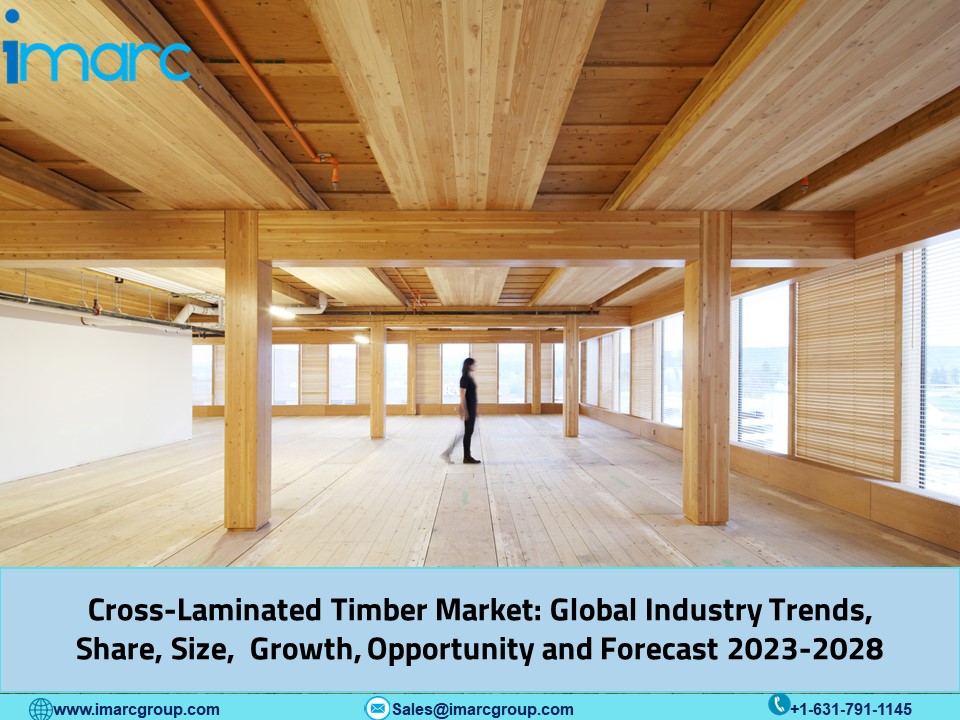 By the IMARC Group, The cross-laminated timber market is expected to reach 4,241,413 Cubic metres by 2028, exhibiting a growth rate (CAGR) of 12.17% during 2023-2028.
According to IMARC Group's latest report, titled "Cross-Laminated Timber Market: Industry Trends, Share, Size, Growth, Opportunity and Forecast 2023-2028", the global cross-laminated timber market size reached 2,105,690 Cubic Metres in 2022. Looking forward, IMARC Group expects the market to reach 4,241,413 Cubic Metres by 2028, exhibiting a growth rate (CAGR) of 12.17% during 2023-2028.
Cross laminated timber (CLT) is a building material made from layers of lumber boards stacked at right angles and glued together under pressure to form large panels. The resulting material has high structural integrity and can be used for walls, floors, and roofs in buildings. It is also lightweight and easy to work with, thus making it a popular choice for prefabricated buildings. The use of cross laminated timber can reduce the carbon footprint of a building by sequestering carbon in the wood and reducing the need for energy-intensive materials like concrete and steel.
Request a Free PDF Sample of the Report: https://www.imarcgroup.com/cross-laminated-timber-manufacturing-plant/requestsample
Global Cross-Laminated Timber Market Trends:
The increasing demand for wooden panels from the furniture and construction industries represents a key factor driving the market growth. In addition to this, the rising demand for durable, lightweight, and sustainable construction materials in commercial, residential, and institutional applications is driving the market growth. In line with this, the increasing awareness regarding energy sustainability and conservation is contributing to the growth of the market. Other factors, such as various product innovations, increasing investments by the leading players to expand their production capacity, and strategic collaborations and partnerships among the market players, are creating a positive outlook for the market further across the globe.
Cross-Laminated Timber Market 2023-2028 Competitive Analysis and Segmentation:
Competitive Landscape With Key Players:
The competitive landscape of the cross-laminated timber market has been studied in the report with the detailed profiles of the key players operating in the market.
Some of these key players include:
• Stora Enso• KLH• Binderholz• Mayr Melnhof• Hasslacher• XLam Limited• Sterling Lumber• Shilliger Holz AG• Eugen Decker Holzindustrie KG• Structurlam• SmartLam• Meiken Lamwood Corp.
Key Market Segmentation:
The report has segmented the cross laminated timber market on the basis of application, product type, element type, raw material type, bonding method, panel layers, adhesive type, press type, storey class, application type and region.
Breakup by Application:
• Residential• Educational Institutes• Government/Public Buildings• Commercial Spaces
Breakup by Product Type:
• Custom CLT• Blank CLT
Breakup by Element Type:
• Wall Panels• Flooring Panels• Roofing Slabs• Others
Breakup by Raw Material Type:
• Spruce• Pine• Fir• Others
Breakup by Bonding Method:
• Adhesively Bonded• Mechanically Fastened
Breakup by Panel Layers:
• 3-Ply• 5-Ply• 7-Ply• Others
Breakup by Adhesive Type:
• PUR (Polyurethane)• PRF (Phenol Resorcinol Formaldehyde)• MUF (Melamine-Urea-Formaldehyde)• Others
Breakup by Press Type:
• Hydraulic Press• Vacuum Press• Pneumatic Press• Others
Breakup by Storey Class:
• Low-Rise Buildings (1-4 Storeys)• Mid-Rise Buildings (5-10 Storeys)• High-Rise Buildings (More than 10 Storeys)
Breakup by Application Type:
• Structural Applications• Non-Structural Applications
Breakup by Region:
• North America (United States, Canada)• Europe (Germany, France, United Kingdom, Italy, Spain, Others)• Asia Pacific (China, Japan, India, Australia, Indonesia, Korea, Others)• Latin America (Brazil, Mexico, Others)• Middle East and Africa (United Arab Emirates, Saudi Arabia, Qatar, Iraq, Others)
Ask Analyst for 10% free customized report: https://www.imarcgroup.com/request?type=report&id=602&flag=C
This report can serve as an excellent guide for investors, researchers, consultants, marketing strategists and all those who are planning to foray into the market in any form.
Key Highlights of the Report:
Market Performance (2017-2022)
Market Outlook (2023-2028)
Market Trends
Market Drivers and Success Factors
Impact of COVID-19
Value Chain Analysis
Comprehensive mapping of the competitive landscape
If you need specific information that is not currently within the scope of the report, we will provide it to you as a part of the customization.
About Us:
IMARC Group is a leading market research company that offers management strategy and market research worldwide. We partner with clients in all sectors and regions to identify their highest-value opportunities, address their most critical challenges, and transform their businesses.
IMARC's information products include major market, scientific, economic and technological developments for business leaders in pharmaceutical, industrial, and high technology organizations. Market forecasts and industry analysis for biotechnology, advanced materials, pharmaceuticals, food and beverage, travel and tourism, nanotechnology and novel processing methods are at the top of the company's expertise.
Our offerings include comprehensive market intelligence in the form of research reports, production cost reports, feasibility studies, and consulting services. Our team, which includes experienced researchers and analysts from various industries, is dedicated to providing high-quality data and insights to our clientele, ranging from small and medium businesses to Fortune 1000 corporations.
Media Contact
Company Name: IMARC Group
Contact Person: Elena Anderson
Email: Send Email
Phone: +1-631-791-1145
Address:134 N 4th St.
City: Brooklyn
State: NY
Country: United States
Website: https://www.imarcgroup.com