Breaking the language barrier "The Ant and The Grasshopper" is made available in Haitian Creole with Audio
This Haitian Creole translation done by Swans Paul will help Haitian students acquire knowledge from this classic fable in their true native language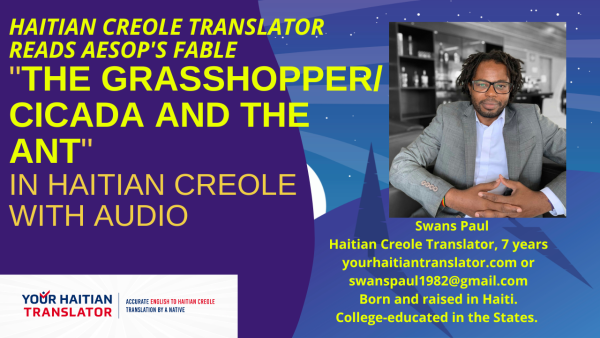 YourHaitianTranslator has just published Aesop's "The Ant and the Grasshopper" translation in Haitian Creole with audio, as this famous fable is virtually unavailable online in Haitian Creole, and Google Translate would be unreliable for an accurate translation into Haiti's true national language.
After noticing that Aesop's "the Ant and the Grasshopper" is not readily available in his native language, a Haitian Creole translator translates it and makes it available to the general public at no cost.
The journey started when Swans G. Paul who is also known as YourHaitianTranslator finds out that while typing "the Ant and the Grasshopper in Haitian Creole" in Google, the search results don't immediately show that the famous fable was readily available in his native language.
While doing the research, he also typed "The Cicada and the Ant", which is another title for the same fable. Google Translate offered the following translation: "Sikad la ak foumi an". The word "sikad" just doesn't exist in Haitian Creole. So, from the get-go, Google Translate's machine translator can't be relied upon to accurately translate this Aesop fable into Haitian Creole.
There might be other versions of the "Ant and the Grasshopper" available in Haitian Creole, but they might require payment.
So, Swans decided to become a part of the solution. Drawing on his knowledge of French and English, Swans Paul, a Haitian Creole translator who was educated in both Haiti and the United States, endeavored to translate "The Ant and the Grasshopper" into Haitian Creole. He also read it with his own voice so that both Haitian students and English speakers can hear the pronunciation. This way, students and educators also have the audio version as well.
Why does the translation of "the Ant and the Grasshopper" in Haitian Creole matter? Swans shared three big reasons while answering the question:
First, Haitian Creole has long been marginalized by the Haitian society's elite where French has been used as the primary language for education and official affairs, and yet 90% of the population doesn't have access to quality education in French due to the cost of attending the few schools that deliver native-level education in French. This creates a linguistic barrier and underclass: no money, no French education.
Second, the compulsory use of French for school textbooks automatically excludes more than 90% of the population from acquiring and sharing universal knowledge because the true native language of all Haitians is Haitian Creole.
Third, knowledge is most easily assimilated and acted upon when it is presented in the student's native language.
To correct this situation of long-standing discrimination against Haitian Creole and to make sure new generations of Haitian students will have access to knowledge in Creole regardless of their location and economic status, through YourHaitianTranslator, Swans has opted to translate The Ant and The Grasshopper. He plans to translate more Aesop fables and make them available online to the general public at no cost.
By doing so, he hopes to show the importance of dealing directly with a human Haitian Creole translator when your institution needs to translate documents from English to Haitian Creole or transcribe audio and video recordings from Haitian Creole into English.
If you were to look for "Haitian Creole translator" on Google, the first options would be automated machine translators such as Google Translate, Translate.com, Imtranslator.net. The issue with these free online translation platforms/apps is that their Haitian translations can be inaccurate, as a few reviews have shown. Unfortunately, there is no disclaimer warning about the accuracy issues found in the Haitian Creole translations produced using those free translation platforms. And an inaccurate translation can be useless.
And that is why it's so important to have a relationship with an actual human Haitian Creole translator who brings the cultural expertise and human commitment that machine translators like Google Translate or Translate.com can't offer, especially for an evolving language like Haitian Creole.
About YourHaitianTransaltor
Swans Paul, born and raised in Haiti and college-educated in the States, is the founder/owner of YourHaitianTranslator. He has over 7 years of working as a freelance Haitian Creole translator for various translation agencies all over the world, in countries like the United States, Canada, France, the United Kingdom, Germany, Egypt, etc. Through YourHaitianTranslator, you can hire him directly and deal with a real Haitian Creole translator, not some AI-based translation service that is likely to produce inaccurate translations. Besides English-to-Haitian Creole translation services, he has also worked on various French-to-English-transcription projects for companies in the UK, France, and Canada transcribing audio recordings from French into English.
For updates follow Swans Paul aka Your Haitian translator on Twitter.
Watch "Haitian Creole Translator reads The Grasshopper Cicada and the Ant in Haitian Creole audio" on YouTube : https://www.youtube.com/watch?v=Uhfdxo1wFiM
Media Contact
Company Name: Your-Haitian-Translator
Contact Person: Swans Paul
Email: Send Email
City: Hernandarias
State: Alto Parana
Country: Paraguay
Website: yourhaitiantranslator.com