Functional Safety Market Has Lucrative Potential due to Advancements in Manufacturing Technologies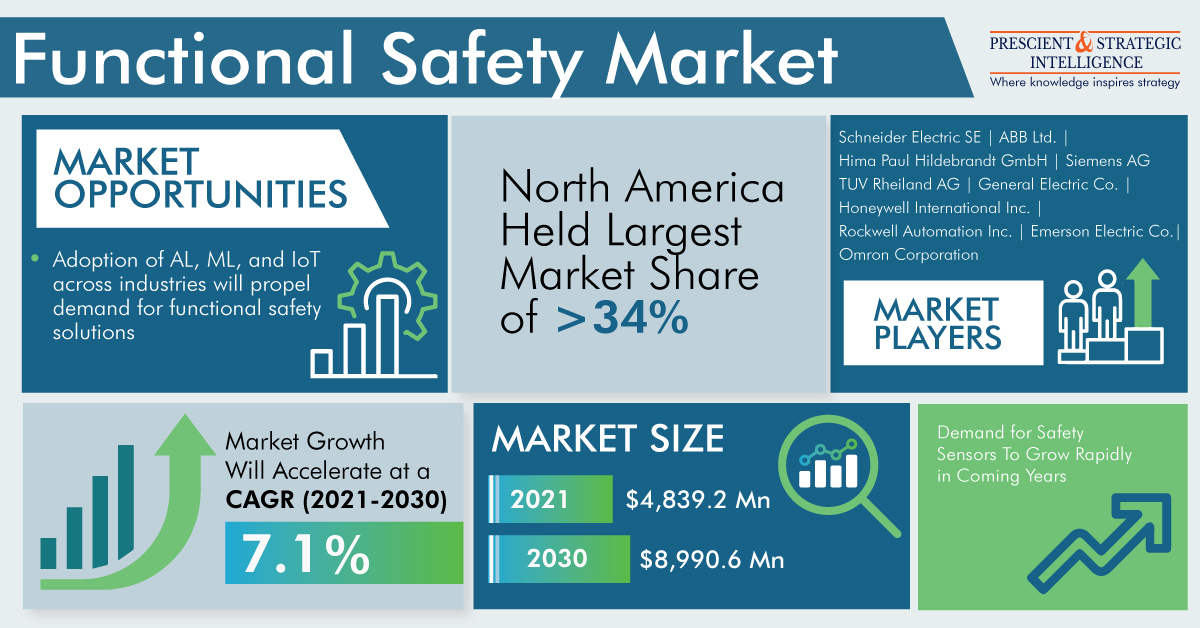 North America is the largest region, with a market share of more than 30% in 2021, because of the strong functional safety rules in the U.S. and Canada, which are closely abided by across many process industries.
The major driver in the global functional safety market is the dire need to reduce the hazardous impact on physical assets in facilities, including onshore and offshore oil & gas fields, refineries, and chemical plants, the environment, and people. In 2021, the market stood at $4,839.2 million, and it is predicted to touch $8,990.6 million by 2030, growing at a 7.1% CAGR from 2021 to 2030. According to the market research study published by P&S Intelligence. Its application is extended to several industries including sectors where modern technology in safety-related systems must be implemented. These products are risk-averse for personnel safety.
The swift adoption of technologically advanced devices will provide lucrative opportunities to the functional safety market players to gain a competitive edge. The advancements in science are reflected by the existence of numerous technologies including ML, IIoT, and AI. Moreover, the manual or traditional control will be outweighed by these technological advances. They will pave the way for integrating such solutions with the latest technologies. Because IIoT assists in offering and controlling practical management of physical systems, IIoT is increasingly required in enhancing the performance of the system.
Request for sample pages of this report: https://www.psmarketresearch.com/market-analysis/functional-safety-market/report-sample
Within the device segment, safety sensors will grow at a 7.5% CAGR from 2021 to 2030. Safety sensors are utilized in a variety of applications, including high-risk zone safety, body part protection, personnel security, and machinery protection. As a result, a vital role in manufacturing facilities by processing, assessing, measuring, and detecting is served by safety sensors for a wide range of changes that occur on production sites. They also help manufacturers by giving real-time data about the equipment they utilize, such as system performance, failure likelihood, and system health.
From 2021 to 2030, the automotive and transportation industry is predicted to develop at the highest CAGR, of more than 7.5%, in the functional safety market. Numerous technical advancements in automobiles, particularly in terms of safety, have been made in the automotive sector. The growing count of sensor-dependent characteristics has compelled engineers to develop more accurate sensors for automotive applications. Lane departure warning, forward collision warning, blind-spot detection, as well as other driving functions gain from the introduction of safety sensors in automobiles.
Electrification and automation are now the two most significant breakthroughs in the automobile industry, driving the functional safety market. The rise of electric cars has had a long-term influence on sensor demand. The rising trend of replacing conventional automobiles with electric vehicles is expected to raise automotive demand even further. By 2026, as per the government source, the Indian EV market would grow at a CAGR of at least 30%. These modifications have skyrocketed the demand for automobile security and safety, which is expected to raise the bars of market development potential.
Browse full report at: https://www.psmarketresearch.com/market-analysis/functional-safety-market
APAC will rule the functional safety market in the coming years, and it is projected to attain a $2,000 million figure by 2030, advancing at the highest CAGR in the forecast period. In 2021, China had approximately one-third of the regional market share. These factors act as accelerators for the country's automation sector. Investments are being planned to ensure growth and quality, solve environmental challenges, and reduce overcapacity. Because China is one of the most advanced countries in terms of automation, it is expected to benefit from market growth.
Major players in the market are Schneider Electric SE, ABB Ltd., Hima Paul Hildebrandt GmbH, TUV Rheiland AG, General Electric Co., Siemens AG, Honeywell International Inc., Rockwell Automation Inc., Emerson Electric Co., and Omron Corporation.
Market Size Breakdown by Segment
By Safety System
Burner Management Systems
Turbo Machinery Control System
High-Integrity Pressure Protection Systems
Fire & Gas Monitoring Control System
Emergency Shutdown Systems
Supervisory Control & Data Acquisition
Distributed Control System
By Device
Safety Sensors
Safety Controllers
Safety Switches
Programmable Safety Systems
Emergency Stop Devices
Final Control Elements
By Sales Channel
By SIL Type
By End User
Oil & Gas
Power Generation
Food & Beverage
Pharmaceutical
Automotive and Transportation
By Region
North America
Europe

Germany
U.K.
France
Italy
Spain

Asia-Pacific

Japan
China
India
South Korea

Latin America
Middle East and Africa

Saudi Arabia
South Africa
Browse More Reports Published by P&S
Advanced Distribution Management System Market Size and Share Analysis by Offering, Deployment Mode, End User – Industry Development and Demand Forecast to 2030
Telecom Power System Market Growth by Component, Grid Type, Power Source, Technology – Industry Development and Demand Forecast to 2030
About P&S Intelligence
P&S Intelligence provides market research and consulting services to a vast array of industries across the world. As an enterprising research and consulting company, P&S believes in providing thorough insights on the ever-changing market scenario, to empower companies to make informed decisions and base their business strategies with astuteness. P&S keeps the interest of its clients at heart, which is why the insights we provide are both honest and accurate. Our long list of satisfied clients includes entry-level firms as well as multi-million-dollar businesses and government agencies.
Media Contact
Company Name: P&S Intelligence
Contact Person: Abhishek
Email: Send Email
Phone: +918887787886
Address:Noida Sector 2
City: Noida
State: UP
Country: India
Website: https://www.psmarketresearch.com/market-analysis/functional-safety-market