Pumpkin Lovers Unite Each Year on October 26th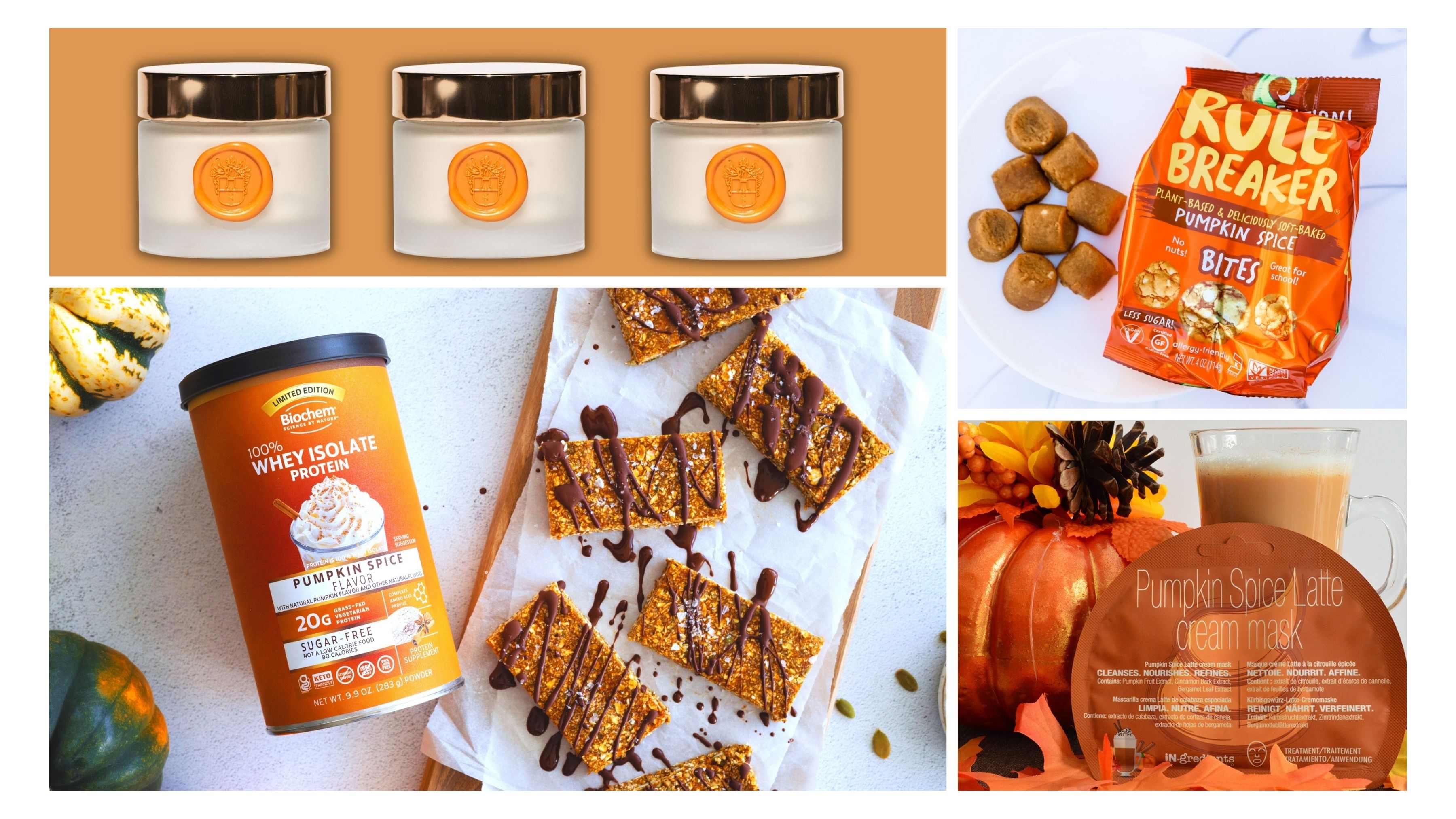 Pumpkin lovers are uniting across America on this special holiday, National Pumpkin Day, on October 26th. If you are a pumpkin lover, you know there's never enough pumpkin in a day. From pampering pumpkin skincare to the perfect pumpkin snack, to pumpkin protein that keeps you healthy. We have all the latest pumpkin brands and trends to celebrate the day!
Marianella
Obsessed with all things Pumpkin? The Marianella Exfoliating Pumpkin Seed Clay Mask will be the ultimate pampering treat for you. This mask not only detoxifies, but it also replenishes the skin and removes dead skin cells, giving you gorgeously fresh glowing skin. Apply a thin layer of this exfoliating clay whip all over your face, as you apply the mask gently exfoliate the skin in a circular motion. Once the face area is covered and has been thoroughly exfoliated, allow the clay mask to dry. After the application of the clay mask, you will feel your face tighten as the clay dries. Drying times vary, but times are generally 5 minutes for delicate skin and 15-20 minutes for normal skin. You will feel a pulling and tightening sensation, deep pore cleansing! Remove clay by washing with warm water. As the clay dries it "soaks" up the skin's natural oils and anything clogging the pores and draws it to the surface. Available for $36 at Marianella. co – a mom & son luxury sustainable beauty brand based in Brooklyn, New York. Follow @MarianellaSoap on Instagram #sustainable #cleaningredients #crueltyfree #madeinsmallbatches
Rule Breaker Snacks
It's Pumpkin Season and Rule Breaker Snacks is spicing things up! New Limited Edition Rule Breaker Snacks Pumpkin Spice Bites are deliciously soft-baked and feature real pumpkin (no artificial flavors or colors here!), smooth white chocolate chips, and the perfect amount of spice. Like all Rule Breaker Snack flavors, the new Pumpkin Spice Bites feature chickpeas as the first ingredient – and are vegan, gluten-free, non-GMO, and free from the top eleven allergens including dairy, eggs, sesame, soy, coconut, and wheat. Packed with protein and fiber, made with clean ingredients, and with only 3 grams of added sugar and just 100 calories per serving, they're a great snack anyone can feel good about eating and sharing. Founded by a former health journalist and certified health coach who wanted to create better-tasting, better-for-you sweet treats, Rule Breaker Snacks has upended snack time over the past few years with snacks that are perfectly and deliciously guilt-free. The new Rule Breaker Pumpkin Spice Bites are plant-based pumpkin perfection. They are available for a limited time only, so get these little gems while you can! Order at rulebreakersnacks.com and follow Rule Breaker Snacks on social media @rulebreakersnacks. #bearulebreaker #snacktimesolve
Biochem®
And if you love the taste of pumpkin, Biochem® launches its newest nutrient-rich, sugar-free, Whey Isolate Protein flavor in Pumpkin Spice. Made from high-quality, non-GMO ingredients and 20g of grass-fed vegetarian protein in every scoop, the limited-edition flavor makes it easy to celebrate the change in seasons and festive occasions while remaining true to any health and fitness plan. Whether you mix, blend or shake a scoop, Pumpkin Spice Whey Isolate protein powder is free of artificial flavors, colors, and sweeteners – allowing consumers to have everything nice with their spice. Add it to a protein shake, sprinkle it into morning iced coffee, or mix up a batch of our favorite No-Bake Pumpkin Spice Granola Bars – there's no wrong way to get your Pumpkin Spice fix this fall. Biochem® Protein is available to purchase at biochemprotein.com and via Amazon. Stay connected by following on Instagram and Facebook at @biochemprotein. #BiochemProtein #NextLevelLiving
MasqueBAR
Celebrate PSL and pumpkin season with MasqueBAR's Pumpkin Spice Latte Cream Mask – this delicious cream mask contains Pumpkin Fruit Extract, Cinnamon Bark Extract, and Bergamot Leaf Extract to help cleanse the skin while helping to refine the appearance of pores and nourishing dry patches ($2.99) available exclusively at Walmart and Walmart.com. No more bad skincare days with MasqueBAR's NEW Coffee Collection! The brand is thrilled to introduce this comprehensive new line of cream masks, sheet masks, scrubs, body masks, and eye patches, as well as their new retail partnership with Walmart. Here is what's brewing – eight additional coffee-infused products to add a shot of caffeine to your skincare routine. Espresso yourself with the following NEW products to revive and recharge your complexion. Follow the brand on social media: MyMasqueBAR and tag @mymasquebar or #mymasquebar.
We hope you enjoyed this round-up of yummy pumpkin-flavored treats and pumpkin-infused skin care. Happy National Pumpkin Day!
Media Contact
Company Name: HOME AND LIFE MEDIA BOOKING AGENCY.
Contact Person: Laura Dellutri
Email: Send Email
City: Springhill
State: Kansas
Country: United States
Website: www.homeandlifemediabookingagency.com